Begin to add some colourful items to mix and match with your basic wardrobe. Remember that colours can either flatter you or make you look washed out and tired. Experiment with colours to find out what suits you best. Which colours complement your skin tone, your eyes and your hair colour? Inspire yourself from art and nature. We are surrounded by combinations of different colours that look incredibly beautiful together. Avoid wearing too much of the same colour, this can be ageing and not very chic. If you do decide to wear a red jacket or dress it's important to match both your lipstick and nail varnish to harmonise the look.
Horizontal stripes (these inevitably make you look larger) and large floral prints should be avoided, as should any other item that is instantaneously recognisable.
Powered by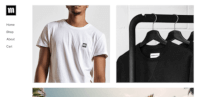 Create your own unique website with customizable templates.
Photos used under Creative Commons from _william, Alaskan Dude, Jean-Louis POTIER, slipstitch_designs, Kris Krug, wwarby, Daquella manera, vmiramontes, Genista, GlitzUK, latinofashionwk, RON SOMBILON MEDIA, ART and PHOTOGRAPHY, kennethkonica, Cour10e Fox, roxannejomitchell, EraPhernalia Vintage . . . (playin' hook-y ;o), DeeAshley, Materials Aart, Bellafaye, garann, |FAT| Arts and Fashion Week, Mitya Ku, Naomi King, Vision d'afrique, Frankenz Durian | photography, Debs (ò‿ó)♪, Chealse V, Stefanie Neves, lululemon athletica, deflam, Teecycle Tim